Art therapy departments in psychiatric units are familiar with the scenario encountered here. Rigid geometric grey shapes, totally dehumanised forms, are relentlessy produced and stared at for hours. Eventually biomorphic forms appear as people rekindle their sense of "being". The rigid geometry of what R.D. Laing called "ontological insecurity" (the insecurity of being) is replaced by a sense of control in their lives. Small dabs of colour, plant like forms grow against all odds as plants in the real world. Here is the rebirth of the functional mind.

"CLICK ON  IMAGE TO VIEW A LARGER  PICTURE AND DESCRIPTION."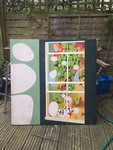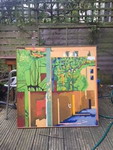 In October last year I received an email from a young lady who had found and purchased these pieces in a house clearance place on Lavender Hill, south London. I had painted them circa 1972/73 and forgotten they existed. Fortunately they had my name on and the girl traced me. One is an alleyway in Richmond and the other is the window of my room in Richmond. Once again you see the broad areas of colour where my tortured mind was mechanically trying to understand the nature of image.